With our residential painting services, we can handle anything from classical southern homes with fancy trim and detail work, to new homes with modern synthetic finishes. We can provide interior residential painting for the addition of complimentary colors, painting of accent walls, and wall coverings to any of the ultra modern high white contrast and metallic finishes. We have the experience and ability to accommodate any style, from a home with a wide variety of lavish colors and detail work, to one with earth tones from the basic color palate. Looking for complimentary colors to go with your mood lighting or bright entertaining finishes? We have the ability to accommodate any request or ideas that you may have.
Our painting services include:
Brush/Roll or Spray Application
Interior/Exterior Painting
Driveway/Concrete/Decorative Pavers Sealing
Painting/Staining/Varnishing/Polyurethane
Wood Repair/Replacement
Referral Designer Services for the interior and exterior
To ensure the meeting of expectations, we would come and look at your home in person to see your current finishes so that we can recommend the best products for use on your home. We would also discuss with you what your tastes and preferences are. It's also important for us to know whether you have an older classical home or a home in an upscale modern subdivision. After assessing your home in its current condition, we would then discuss your desires for moving forward on your project.
Some important things to note are:
We have experience painting anything from small townhomes and starter family homes to larger upscale community houses. We also have the ability to match our paint and staining products to any current color in your home. We use fine quality paints by today's leading manufactures such as Benjamin Moore and Sherwin Williams, but we can achieve any desired finish using a product of your choice.
"McKown Pressure Wash Painting & Contracting did a wonderful job at my home! They were quick to respond, professional & sensitive to my wants & needs. The painting work at my home looks outstanding & was given at a great price! Thank you again, I will definitely recommend your services to all of my friends."
~ Lucas T., Virginia Beach
"I requested a painting quote from McKown, not only was the job priced within my budget, but the quote was returned to me very quickly. When their painter arrived at my house, he was very clean cut and friendly. The job was completed quickly and it looks great."
~ Jason F., Chesapeake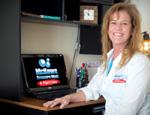 ---
Contact Kelly Hinderks for more information or to ask for a quote: 757-631-2127 or kelly@mckownpressurewash.com